As industry originators in workholding and steady rest technology, Arobotech Systems is dedicated to pursuing next-generation advancements in cylindrical grinding. Today, we are thrilled to announce that the next generation has arrived.
Our 5th Generation Grinding AUTO REST® is a marvel of precision engineering. As a more flexible successor to our industry-standard AUTO REST®, Gen 5 offers the same familiar features and quality our customers have come to expect from Arobotech.
Superior Design for Superior Performance
Our next gen Steady Rest, with Superior Fine Adjustment (or SFA for short), will allow faster alignment and change-over. An extended adjustment range of +/- 0.20mm has been integrated into the new generation for maximum flexibility with multiple tooling. We have also extended the clamping range in many of our most popular models within the same footprint to reduce the need for multiple tooling.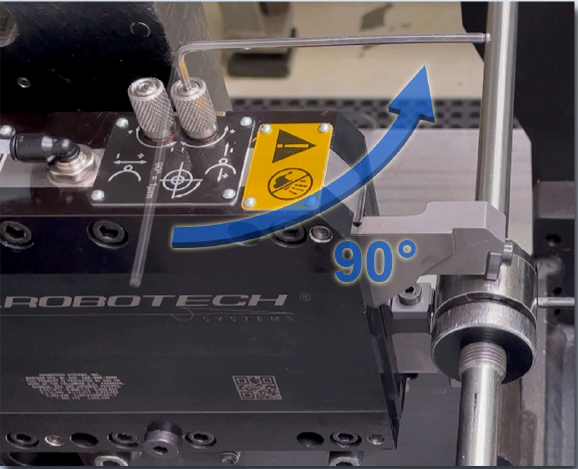 Most notably, a 90° rotation of either X and Y axis adjustment screws results in precisely 0.001mm position change to the workpiece. This new feature offers the most accurate finite adjustment in the industry so you can set up and align quicker and more reliably.
With SFA, Arobotech Systems continues to innovate the workholding industry with our most advanced steady rest to date.
The same Grinding AUTO REST® you've come to trust in your industry
Our 5th Generation Grinding AUTO REST® is built using the same design principles that has enabled Arobotech to become the World Leader in Steady Rest Technology®. The straight-line motion created by a sliding wedge design developed by Arobotech gives Grinding AUTO REST® its precision self-centering capacity. This allows the Grinding AUTO REST® to support the workpiece at the point of grind. The dynamic self-centering ability compensates for the changing workpiece size to keep the part on center and under positive control throughout the grind cycle for precision manufacturing.
Grinding AUTO REST® components are specifically designed to perform in the unforgiving, high volume production grinding environment. Materials, hardness, and fits are optimized to maintain function under the worst conditions of manufacturing. Our steady rest design uses large, flat bearing surfaces rather than arcs, pivots, cams, and other high wear points for quality and service life that outperforms any competitor.
Quality is Our #1 Priority
Each of our finished workholding products receives a final inspection before it is allowed to leave our facility, with all critical sizes measured and confirmed against the specs of our engineers and our customers' unique specifications. We also test and certify the performance of each Grinding AUTO REST®. They must repeat within .001mm to pass our rigorous certification criteria for unsurpassed accuracy and reliability. Because failure isn't an option for our industrial partners, failure isn't an option for us. That's why we prioritize quality above all else.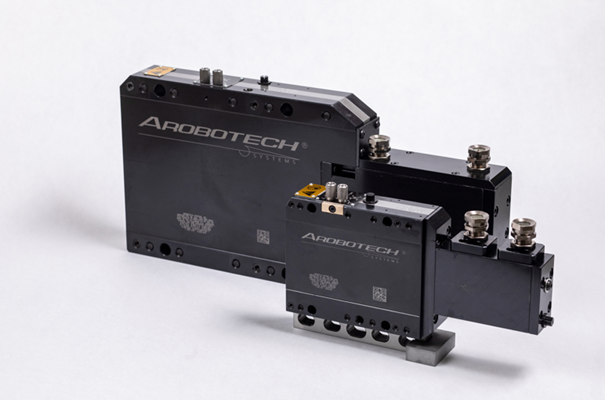 Arobotech Systems has a ready-made, proven, solution from our 40-year library for just about any steady rest need. If not, Arobotech Systems has an engineering staff of dedicated steady rest experts with unparalleled experience and expertise to design a new model tailored to your specific project requirement.
Ready For Any Job & Any Industry
To stay at the top of any industry or endeavor, innovation is key. Our 4th Generation Grinding AUTO REST® was precise, adaptable, and innovative enough to become the industry standard in international workholding solutions. But resting on your laurels—no matter how you justify it—is still resting.
Our 5th Generation Grinding AUTO REST® capitalizes on the successes of past generations while improving user experience and precision across the board. We're ready for you to experience the difference and we can't wait to hear what you think.
Stop by and see our 5th Generation Grinding AUTO REST® this year at Grindtec March 15 – 18 in Augsburg, Grinding Hub May 17 – 20 in Stuttgart or IMTS September 12 – 17 in Chicago. We'd love to meet, greet, and speak with you about the solutions you need most. If you're missing out on this year's shows, don't worry. You can still browse our products by visiting us or contacting us online.
---
Always innovating, always listening, always improving—Arobotech
As industry originators, we set our own standards. Accordingly, we're always interested in the next innovation, the next feature, the next customer-feedback driven solution for our workholding technology. To learn more about our full product lineup, or to meet us in Augsburg, Germany for the 2022 GrindTec trade show, visit us or contact us online.